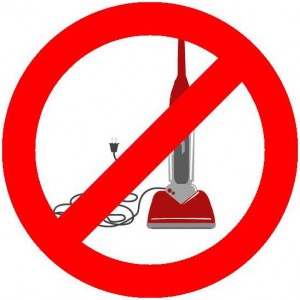 Don't even think about getting Mom some kind of household appliance.
Appliances to avoid include:
Scum Buster
Steam Carpet Cleaner
Iron
Vacuum Sealer
Sewing Machine
Bread Maker
Toaster Oven
Washer and Dryer
Some of these are actually pretty amazing gifts, but they still belong on this list of Mother's Day gifts to avoid. Even if Mom specifically asked for one of these, Mother's Day is not the day to give it to her.  Mother's Day should be her day to feel pampered and appreciated, not reminded of the many chores that these appliances are supposed to make easier for her to accomplish when Mother's Day is over.
Don't be the guy in "The Doghouse" videos who thought he was scoring with a dual bag vacuum cleaner, unless you plan to vacuum the house with it while Mom puts her feet up and watches her favorite chick flick on the DVR.
Woo her instead with The Enchanted Rose from Crystal World's Classic Collection. It was inspired by the classic French fairy tale, La Belle et la Bete or Beauty and the Beast. It is a reminder of the hope that  remains for the Beast… if he can find true love before the last rose petal falls, the curse will be lifted and he will become a prince once again. It can also be the hope that remains for the husband or son who has given a thoughtless Mother's Day gift in the past.
Remember the key is a "thoughtful" Mother's Day gift.  There is still time to discreetly find out what she would really like for Mother's Day.
Share this article