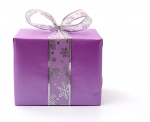 Crystal figurines make unexpected and unusual gift ideas. Crystal World has crystal collectibles suitable for any occasion. Take advantage of our gift wrapping policy to make every gift sent from Crystal World special.
Choose from Silver, Red, Blue, Pink and Lavender gift wraps. The blue and pink are nice for parents and grandparents with new babies, but can be used for any occasion.
A custom signed gift card is included with each wrapped gift. Simply enter your message at checkout where you choose among the giftwrap options.

Share this article