"I grew up with only one real career desire in life, and that was to someday draw my own comic strip." – Charles M. Schulz, 1983
Charles M. Schulz, creator of the beloved Peanuts characters, was born 90 years ago – November 26, 1922. We honor his memory today with a look at his life, and his importance in the history of Crystal World.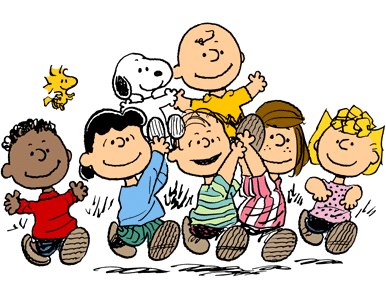 Schulz was an only child, born in Minneapolis, Minnesota. Comic books played an important part in his early life. He was even nicknamed "Sparky" by an uncle, after the character "Spark Plug" in the Barney Google comic strip.  After serving in the army during World War II, Charles Schulz  continued to draw, and produced a number of cartoons that never became popular, But his L'il Folks series was picked up by a newspaper in St. Paul, Minnesota, and ran from 1947-1950. later that same year,  he approached United Feature Syndicate about continuing the L'il Folks series – and they did, and still do. The strip now known as PEANUTS © debuted on October 2, 1950, and continues to appear somewhere around the world in newspapers daily up to the present time.
Here are some interesting facts about the PEANUTS © strip, reputed to be the most popular comic strip of all time.
At its height, PEANUTS © was published daily in 2,600 papers in 75 countries, in 21 languages.
Over the nearly 50 years that PEANUTS © was published, Schulz drew more than 18,000 strips.
The strips themselves, plus merchandise and product endorsements, produced revenues of more than $1 billion per year, with Schulz earning an estimated $30 million to $40 million annually.
During the life of the strip, Schulz took only one vacation, a five-week break in late 1997 to celebrate his 75th birthday; reruns of the strip ran during his vacation, the only time reruns occurred while Schulz was alive.
Charles Schulz died in 2000, at the age of 78. In 2003, Crystal World announced a license agreement with United Media Group to produce PEANUTS © crystal figurines and other crystal gifts. Next year marks our 10th year as the exclusive licensee of crystal PEANUTS © products.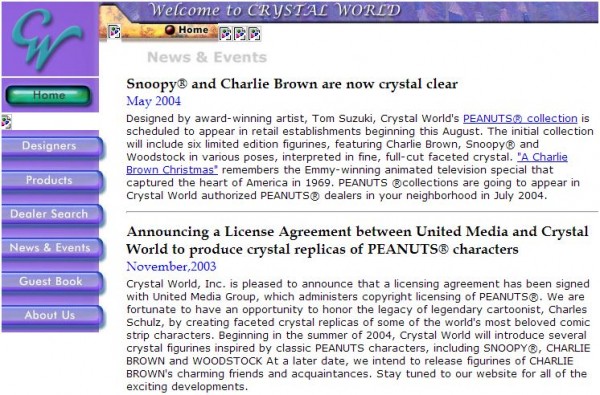 Crystal World has been pleased to offer collectors the opportunity to purchase these fine PEANUTS © faceted crystal figurines. Each Peanuts by CRYSTAL WORLD design is issued in a strict, worldwide, Limited Edition of 2,750 pieces and comes complete with a hand-numbered Certificate of Authenticity. Browse our PEANUTS © Collection for gifts that are sure to please lovers of Charlie Brown, Snoopy, Lucy, Linus, Schroeder and all the PEANUTS © gang!
Source: Wikipedia, Charles Schulz Museum
Photo Credits: Charles Schulz Museum, Crystal World
Share this article